I have recently concluded an interim analysis of 'Sunrise' registrations in the .info domain. This shows conclusively that Sunrise registrants are purely defensive registrants who have no interest in their registrations other than preventing others from registering "their" names - even though the law - and common sense - says that multiple entities have the free right to use a trademarked name for any uninfringing purpose.
Of the 6,794 confirmed valid Sunrise registrations (at least to the extent that they are based on valid trademarks), 6,037 (89%) do not have associated websites or are merely "parked" with their chosen registrar. A further 89 point to missing content. A further 12 provide some temporary content (are 'under construction') and 3 are listed for sale. Of the 653 remaining, 649 are simply redirected to identical content at existing .com, .net or .org web servers.
Only 4 registrations have been identified that have actually been used to create and publish new Internet content that would benefit the registrant and Internet users. Of these, one has been used for a private, non-commercial purpose (not protected by trademark rights - nyse.info), and 2 are used in respect of the generic meaning of the domain name rather than the purpose for which the trademark was granted - football.info and sex.info. One of these – football.info - is locked and is probably an illegitimate registration. The other – sex.info - is based upon an extremely 'interesting' trademark claim (check registration 2306348 at http://www.uspto.gov/main/trademarks.htm). The applicant has 'creatively' registered the word "sex" for a child's mechanical toy. The mark is: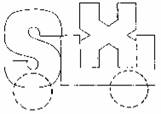 Afilias' Sunrise Policy has enabled this registrant to "legitimately" claim the right to register and use probably the most valuable .info domain name – sex.info.
Only 1 registration in this analysis of 14,092 registrations – brainworks.info - has resulted in entirely new content

.
I think that this analysis clearly shows that Sunrise policies do not expand the domain space and merely serve to prevent legitimate users make fair and uninfringing use of newly available domain names. It would seem to be far more logical that, if one entity has registered a domain name relating to his trademark in one domain, then another entity with a legitimate purpose should have the right to it in another domain - and that the original registrant should, in fact, be EXCLUDED from registering a second time rather than be given a right to exclude all others.
---
[Date Prev] [Date Next] [Thread Prev] [Thread Next] [Date Index] [Thread Index]
---